Art train that is.
Since my last post, I've had 2 art exhibitions and been to one workshop.  A quick drive by to catch up –
I'm working on a video – a virtual tour of my studio as I apparently didn't take any photos, but did do a quick video walk through while everything was set up for the show.  It was a good studio tour weekend with near 200 visitors, the majority of which were new visitors to my studio – so happy to see everyone!
I have 2 pieces in the New Legacies show at the Lincoln Center.  It closes tomorrow, so only one more day to see it before it comes down.
My next show opens in Sept:  A 3-person group show at Metro Frame Works in Denver.  I'll be showing a bunch of my personal badges and textile paintings and I'll be there for the opening event on first Friday, Sept. 4, so please drop in if you're in the area.

In late July, I got to hang out in Boulder with some of my eco-dyeing tribe for a wonderful workshop with Irit Dulman at the Living Craft School.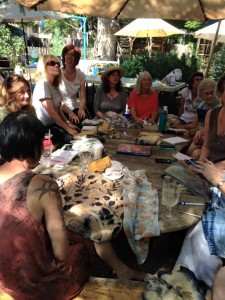 At week spent in this incredible setting learning, sharing, and experimenting together filled my cup.  So inspired, I came home and spent the next 2 weekends dyeing and printing out on my new dye deck – will be sharing this space with some students in less than 2 months when Barbara I will be teaching our workshop here in Fort Collins.  It's sold out and we've got a wait list going, so we're considering possibly adding another session to our fall schedule.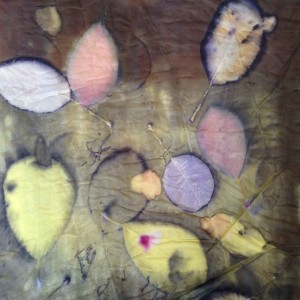 Probably influenced by the fact there was a teepee in the workshop space at the Living Craft School and the week I spent there allowed me to re-connect a bit with myself, once back home I kept being reminded how much I have always wanted to sleep in a teepee, ever since childhood.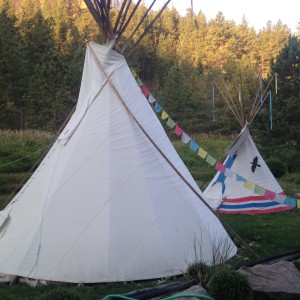 Well, turns out I finally did just that, thanks to a friend who has 2 of them at her home in Poudre canyon.  It was fun sleeping outside in the round although I do admit, these days I much prefer my comfy beauty rest mattress over sleeping on the ground.