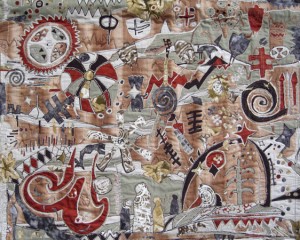 I am a mark maker. I love to draw, map, and organize thoughts, plans, spaces, and the world around me. Drawing and mark-making, seeing the artist's hand, an honest glimpse into one's mind and heart– these are the qualities I value and strive for in my art. It is through drawing, visually mapping ideas that I make sense of the world.
Trained as a printmaker, I create richly drawn active surfaces, exploring drawing and mark-making.  Combining printmaking with fiber, I am intrigued with the endless variety of line quality, texture, and surface that can be achieved in textiles. In my textile work, I use hand-dyed fabrics combined with multiple surface design techniques including painting, discharging, and deconstructed screen printing to create abstract mixed media textile paintings and art cloth. The deconstructed screen printing process is a remarkable synthesis of printing, painting, and drawing, allowing for a wholly unique approach to mark-making.  My textile paintings include layers of fabric combined with thread "drawing" to develop texture and line.
I am inspired by our many systems for mapping and organizing ideas, stories, data and place.  I enjoy the overlaps that exist between art and science – shapes, models, diagrams, formulas, patterns, etc. I am also fascinated by connectors and connections, both physical and spiritual.  My work combines imagery and personal symbols to convey my feelings, to share a story of places and experiences.
My American Craft Artist Video Interview
In 2015, I was interviewed by the editors of American Craft Magazine.  View my artist video interview below: