Announcements
"Drawing Plans", the story of my artist journey is a featured article in the Feb/March 2016 issue of American Craft Magazine.  The editors of American Craft have also published a "bonus" video interview to complement the article.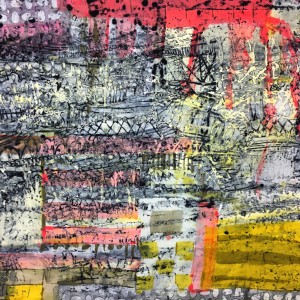 In Feb, I'll be exhibiting once again the American Craft Council Baltimore Show in Booth #1113.  I'll have several new works available, including the one above, which is so new it doesn't even have a name yet!  This year I will be sharing a booth once again with my wife and artist partner, Barbara Gilhooly.  We will have lots of fun new work to share – textile wall art, scarves, mixed media paintings on wood, a wall of balls, and wire sculpture – so please come visit us at the show!
Find my work at a location near you:  My Galleries Page
Please see my Galleries page to find a location nearest you where you can find my work.
Publications
| | | |
| --- | --- | --- |
| | | Loveland Reporter Herald Newspaper, 4/12/2016, "Fiber Art and Printmaking Meld in Ayn Hanna's Art" |
| | | American Craft Magazine, Feb/March 2016, "Drawing Plans" Article |
| | | Loveland Reporter Herald Newspaper, 7/09/2015, "Exhibit celebrates artisans who have turned quilts into art form" Article |
| | | Fort Collins Coloradoan, 9/11/2014, "Must Love Art" Exhibit Article |
| | | Fort Collins Coloradoan, 8/14/2014, "New Legacies Contemporary Quilt Exhibit at the Lincoln Center through Aug 30th" |
| | | Fort Collins Coloradoan, 6/19/2013, "Local artists share space, experience on Fort Collins Studio Tour" article |
| | | Fort Collins Magazine, Winter 2012 Fall Arts Preview Featured Artist Profile |