Announcements
Earlier this summer, I was honored to be selected to represent the Fort Collins artist community in Season 4 of "Beyond the Gallery". Zach Wolfson is a masterful videographer and storyteller, and he has been collaborating with artists to share their stories through his online video series, Beyond the Gallery. Sponsored by the Colorado Creative Industries, Season 4 includes stories of 1 artist each from the 6 newest certified Creative Districts in Colorado.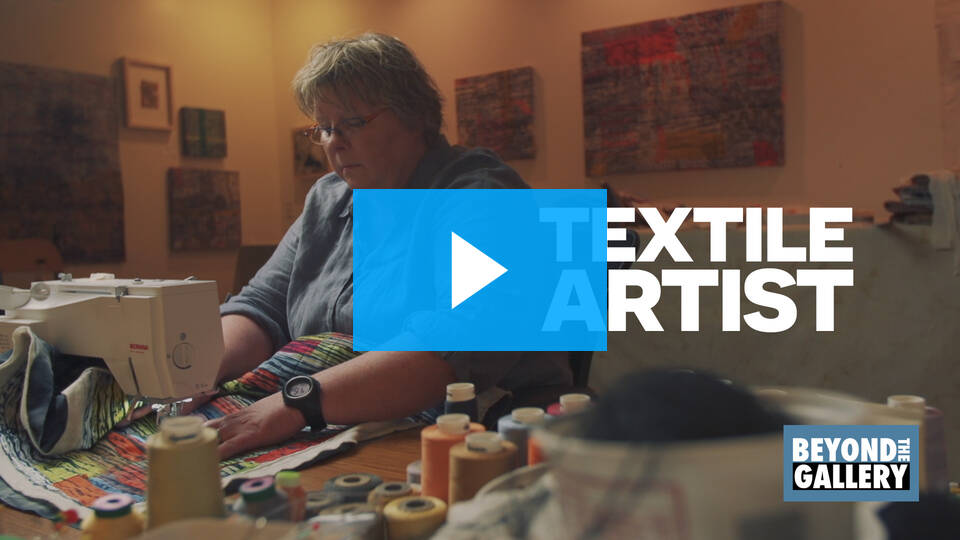 Textile art and drawing as meditation with Ayn Hanna | Infusion5
You can see my work exhibited in 3 locations this summer/fall:
ARTspace: Likeness July 30 – Oct1, 2017
Woodlake Kohler/John Michael Kohler Art Center in Sheboygan, WI
"As part of our yearlong celebration of 50 years of art at the John Michael Kohler Arts Center, ARTspace connects works by five contemporary artists to works housed in our collections. These works were not created in reaction or response to our collections; they were made unbeknownst to it in a separate time and space. However, the work bears a resemblance, a likeness in style, material, or concept."
35th Annual New Legacies: Contemporary Art Quilts July 5 – Aug 26, 2017
Lincoln Center, Fort Collins, CO
"New Legacies: Contemporary Art Quilts is a dazzling array of art quilting that will surprise and delight the viewer. The exhibit features the current work of the finest national and international contemporary quilt artists in the country and beyond. Art quilts accepted for exhibition exemplify innovation in quilting and surface design techniques as well as excellence in artistic composition and craftsmanship."
2 person show July 28 – Oct 22, 2017
Fort Collins Museum of Art (Lobby Gallery), Fort Collins, CO
Find my work at a location near you: My Galleries Page
Please see my Galleries page to find a location nearest you where you can find my work.
Publications
"Drawing Plans", the story of my artist journey is a featured article in the Feb/March 2016 issue of American Craft Magazine. The editors of American Craft have also published a "bonus" video interview to complement the article.
| | | |
| --- | --- | --- |
| | | Loveland Reporter Herald Newspaper, 4/12/2016, "Fiber Art and Printmaking Meld in Ayn Hanna's Art" |
| | | American Craft Magazine, Feb/March 2016, "Drawing Plans" Article |
| | | Loveland Reporter Herald Newspaper, 7/09/2015, "Exhibit celebrates artisans who have turned quilts into art form" Article |
| | | Fort Collins Coloradoan, 9/11/2014, "Must Love Art" Exhibit Article |
| | | Fort Collins Coloradoan, 8/14/2014, "New Legacies Contemporary Quilt Exhibit at the Lincoln Center through Aug 30th" |
| | | Fort Collins Coloradoan, 6/19/2013, "Local artists share space, experience on Fort Collins Studio Tour" article |
| | | Fort Collins Magazine, Winter 2012 Fall Arts Preview Featured Artist Profile |