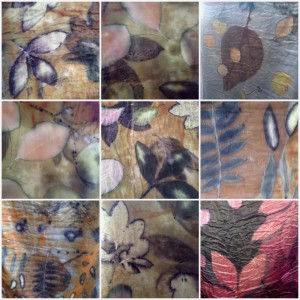 Individually created with my own hand-dyed and hand-printed fabrics,  each piece is a one-of-a-kind art work.  My work is available at these fine galleries throughout the US as well as occasionally through my website store.
Natural Plant-dyed and printed Silk scarves are dyed and printed using natural plant materials (leaves and roots), plant extracts, earth oxides and mordants, showing nature's true colors and marks.
Hand-dyed Black silk scarves are hand-painted with color remover in my original designs and then steamed to reveal the drawn images.
Hand-printed Black Patterned Pillows are made from hand-printed cotton fabrics in multiple designs – Back panels are linen with envelope style closure.  My pillows are currently available on-line through Artful Home and La Bella Fiona.