2017 Schedule
♠ Artist Talk:  "Better Together", A Collaborative Artist Talk with Barbara Gilhooly.
Program for Front Range Contemporary Quilters
June 19, 2017 at 8pm at the Westminster Rec Center in Westminster, CO
♣ Workshop for Rocky Mountain Weavers Guild:  Printing with Natural Plant Materials
Oct. 21-22, 2017 in Denver, CO
♥ Dyeing and Printing with Natural Plant Materials: Botanical Mark-Making on Fabric. 
Class Location: Hanna-Gilhooly Studios in Fort Collins, CO.

Dates:

TBD in 2017

Friday (4:30 pm – 7:30 pm), Saturday (8:30 am – 3 pm), Sunday (9 am – 3pm).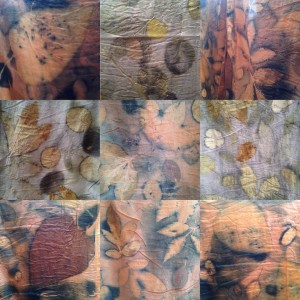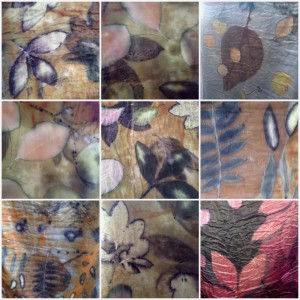 I am currently filling my 2017/18 teaching and speaking schedule.  If you would like to discuss hiring me to teach a workshop and/or present an artist talk for your group, please contact me at info@aynhanna.com or through my Contact page.
♦ Available Workshops & Presentations

ECO-DYEING with Natural Plant Materials: Botanical Mark-Making on Fabric: Ready to play, experiment and let your inner chemist run wild?  Experience the magic and surprise of color and marks that can be achieved on cloth through the alchemy of water, plant materials, heat and metals.  Learn to use plant-based dye baths and plant-bundled fabrics to create cloth with nature's colors, prints, textures, and marks.

Art Cloth: Unique hand-printed fabric:  Breakdown dye-printing combines painting, stenciling and printing techniques to achieve beautiful original art cloth.  Participants will learn how to use thickened dyes to paint and screen-print, building up a layered composition on fabric and will leave the workshop with several pieces of unique hand-printed art cloth.
Surface Design on Fabric: Emphasis will be on creative play as we build layers of texture and color by combining a wide variety of low tech printmaking and painting techniques to our fabrics. Participants will bring several one-yard pieces of cotton fabric (plain white/black).  Each day will explore surface design techniques, layering fabric with the variety of new techniques and skills learned. Ayn will address tools and material usage, support creative response to serendipity and discuss how to make a piece of art look good using color, composition, line, form, value, etc. At the end of the workshop, you will have several pieces of fabric to use in art projects, art quilts (whole cloth or pieced), clothing, etc.
"Mapping a Creative Life – Mark-Making with Printing, Dyeing, and Stitch" – Artist Talk
"Better Together" – A Collaborative Artist Talk with Barbara Gilhooly.  We discuss how we collaborate as well as support each other in developing our individual art careers.