I have artwork in 4 shows in these locations, all of which will be opening within the next month.
My studio art-making and shipping/receiving department have been on overdrive the past couple months prepping for these and other upcoming shows.
Here are the specifics of the 4 show locations:
NY – Quilts=Art=Quilts at the Schweinfurth Art Center in Auburn, NY.  Opens Oct 31 through Jan 3.  My piece "City Lines" was juried into this year's show.
CT – Artistry 2015 at the Guilford Art Center in Guilford, CT.  Oct 30 through Jan 3.  I'll have some of my personal badges and other small wall art textile pieces as well as a large number of my eco-printed and black patterned scarves available for sale in this show.
Chicago – SOFA Chicago Show (Palette Contemporary booth) at the Navy Pier, in Chicago, IL.  Opening Nov 5 – 8.  I'm excited to once again have my work represented in this gallery show for the 2nd year in a row.  My largest work from my LineScape series will be on display.
Minneapolis – Gallery 360 Artists' Group Show in Minneapolis, MN. Opening Nov 14 – Jan 10.  A good number of my personal badges will be included in this annual holiday group show at this wonderful gallery.  And my artist wife, Barbara Gilhooly will have a solo show of her work concurrently in the main/solo show gallery space too.
"Above the Chatter" Exhibit continues through November
In addition to the 4 shows above, my work in the "Above the Chatter" exhibit at Metro Frame Works in Denver will continue through the month of November.  This 3 woman show is beautifully curated and the opening on first Friday in Sept was a fun time, lots of children and dogs (including Lucy, the resident rescue greyhound), and some adults too!  Below are a few photos of this exhibit and the opening festivities: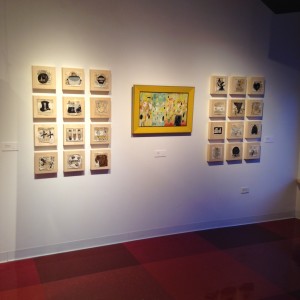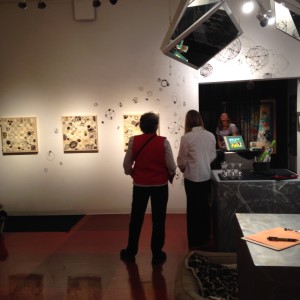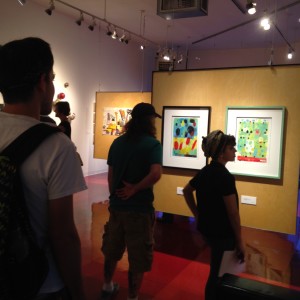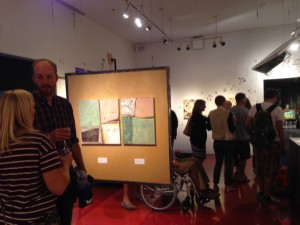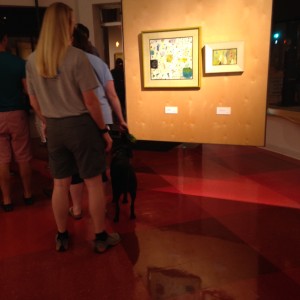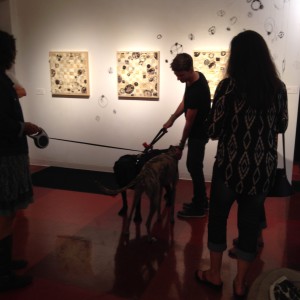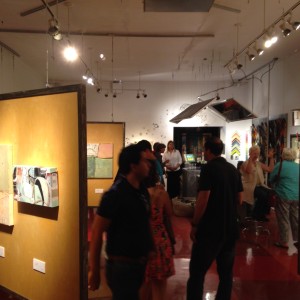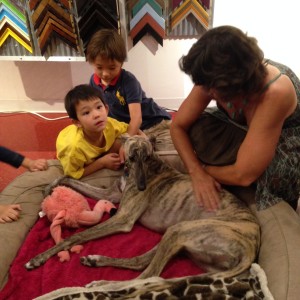 That's it for now.  More soon, including some pictures from last weekend's eco-printing workshop here at Hanna-Gilhooly studios: 8 women, 2 days, 4 dye pots – can you imagine what a good time we had?
Happy Trails!