I'm smack dab in the middle of a stretch of doing 6 shows in 5 months, so LV has quickly passed into rear view as I have to keep my focus forward on the road ahead.  My next show is coming up this weekend as I join over 60 other area artists in opening my studio to the public as part of the Fort Collins Artist Studio Tour & Sale this Friday 4-9, Sat. 10-5, and Sunday 11-4.
I recently finished a new large textile painting and the studio tour visitors will get to see it up close in person.  Below is a sneak peak – behind the scenes of photographing the piece.
Lots of work yet to be done this week to hang work and clean things up all around here.  Visitors to our Hanna-Gilhooly studios will be the first to see our new studio deck where we'll be gathering around the dye pots this fall during our Eco-Dye class.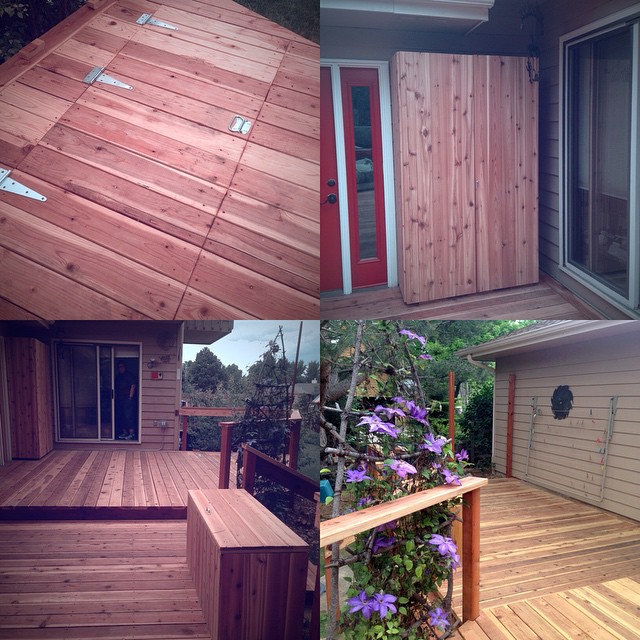 Last weekend I was able to take advantage of the return of the Sun and hot weather to create some more black patterned fabric – urgently needed to make a pillow "on demand" as I received another order from the Artful Home store and alas, it included a pillow design which was out of stock which needed to be shipped within 3 days time.
And, then it was time to get a recount of how many pillows and what designs I DO have in stock, then photograph some of the "one-off" color ones that I don't plan to make any more of as these will be good candidates for the upcoming Fiber Art Sale that Artful Home will be running in July.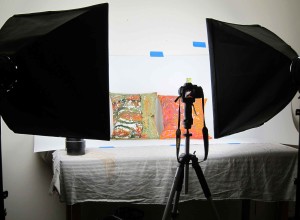 I've added 7 new galleries and artisan shops this year across the US that now carry my work (and I'll be adding 3 more this fall).  You can see the full list here.
Most recently, I'm happy to share that Chemers Gallery in Tustin, CA is now carrying my eco-dyed scarves and the Gallery in the Woods in Brattleboro, VT is now carrying my fine art textile work.  I am looking forward to plans to do a show there sometime next year.
Learning Your Chops
Why am I sharing all this business-y stuff?  To give you a glimpse of the not-so-glamorous yet oh-so-necessary side of running an art business.  It is said an artist needs to spend at least 50% of their time on the business side of art to be successful and the truth is, it actually may require more than that.
It definitely takes lots of hustle and hard work to find gallery partners and homes for one's artwork.  And as the great visual coach Christina Merkley often says, (whatever you're in the midst of learning) "the only way out is through".  Well said, I wouldn't have it any other way.